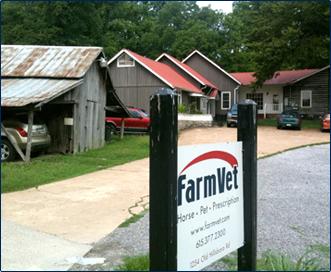 What is FarmVet?
FarmVet is your premier source for animal health products and supplies. We offer the highest level of customer service at a great value on a vast number of products to meet your needs. We have access to over 50,000 products so, if you don't find what you are looking for online, give us a call 888-837-3626. The FarmVet web site is complete with in-depth product information and features safe, easy online ordering and order tracking. Select from the links below to learn more about us.

FarmVet delivers from our Franklin, Tennessee warehouse and most UPS shipments are delivered within 3 business days!
Safe, Easy Online Ordering
The FarmVet catalog showcases many products with photos, detailed information, and relevant links. FarmVet's secure online ordering utilizes the latest encryption standards and secure payment protocols to ensure your safety.

FarmVet accepts Visa, MasterCard, and American Express cards and ships via UPS.

Within seconds of placing your order, your credit card and address information is processed and verified. Most approved orders that are "In Stock" and completed before 1:30 p.m. CST will ship the same day.

Once your order is processed, you will receive an email confirming which item(s) will ship. If there is a backorder, you will be informed of the backordered item(s). If the backorder has not shipped yet, you may cancel the backorder by sending email to sales@farmvet.com. Please note that once part of an order ships, the shipping & handling costs for the order are not refundable.

You can securely view your order history and invoices with status information clearly marked for each order.